44th South Australian State Square Dance Convention, Naracoorte SA
Friday 23rd August to Sunday 25th August 2019
Naracoorte Town Hall, 95 Smith Street, Naracoorte SA 5271
Convenors: Christine Hall 0410 057 955 and Alan Hall 0417 820 134
Theme: CLICK GO THE SHEARS
Book online: https://www.trybooking.com/BAGQI
Manual Registration: PO Box 1222, Naracoorte SA 5271
Email Contact: sasds.convention.committee@gmail.com
CLICK HERE to view or download the Convention Information Pack as a PDF file (1.5MB)
The full program will be available for pick up from the venue at any time from 2pm Thursday 22nd August onwards along with all the other "goodies" in your Convention packs.
TRAIL IN DANCE - Thursday 22nd August 2019
The evening before the Convention starts, Acey Squares will be celebrating their 13th Birthday with a Trail In dance
Tickets for the Trail In dance are $15 per person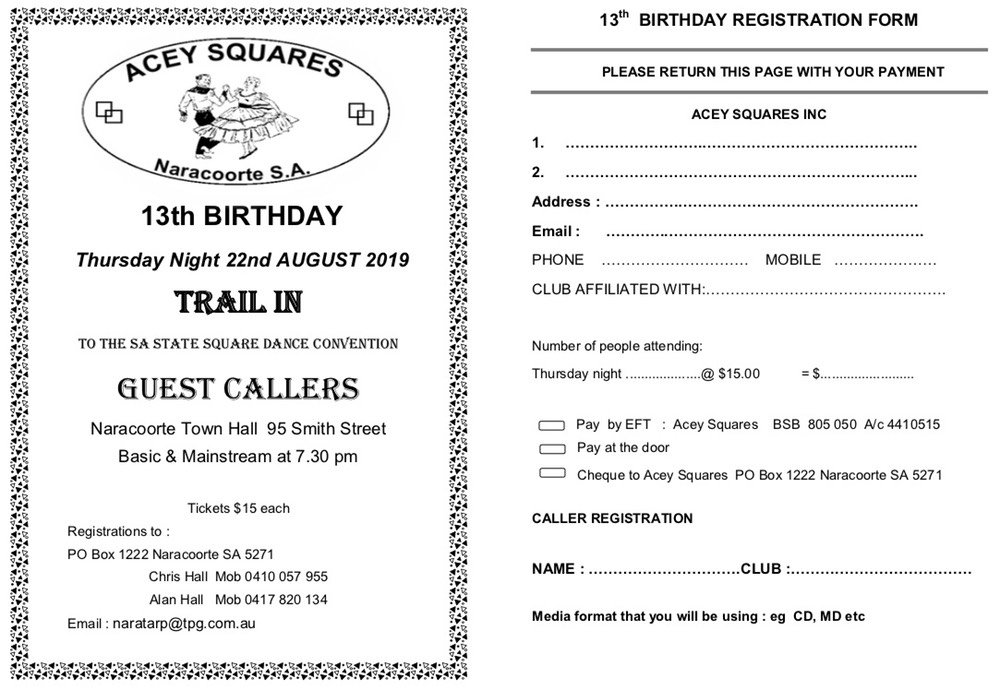 CLICK HERE to view or download a PDF file (155KB) of the registration form and flyer for Acey Squares 13th Birthday
CONVENTION - Friday 23rd August to Sunday 25th August 2019
CLICK HERE to view or download the Convention Information Pack as a PDF file (1.5MB)
Convention bookings are open now
Book online: https://www.trybooking.com/BAGQI
Manual Registration: PO Box 1222, Naracoorte SA 5271
Email Contact: sasds.convention.committee@gmail.com
CLICK HERE to view or download this flyer as a PDF file (189KB)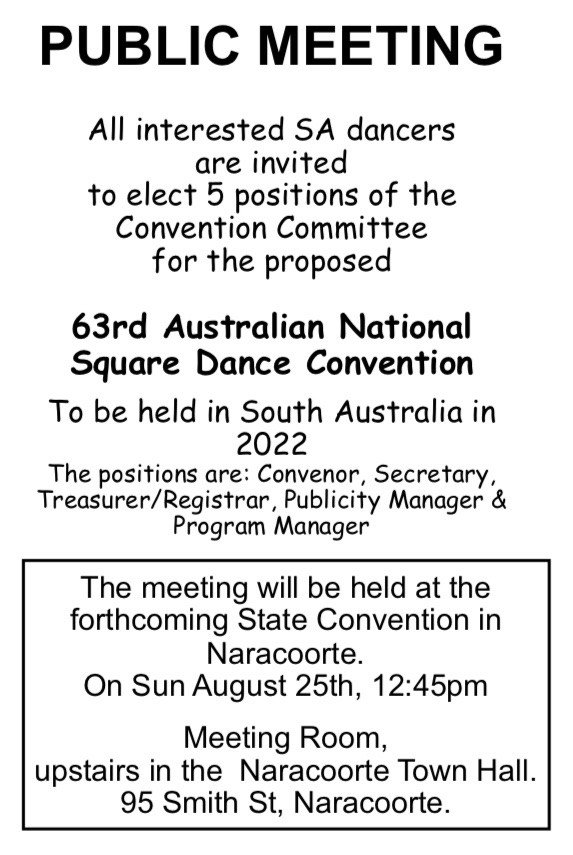 ACCOMMODATION
Please book your accommodation in Naracoorte as soon as possible.  There is another event in town at the same time which may make it difficult to secure the accommodation of your choice.
CLICK HERE to view or download this document as a PDF file (820KB)
TRANSPORT TO NARACOORTE
If you are looking at transport options to Naracoorte for the Convention, please refer to the flyer below.
FLYERS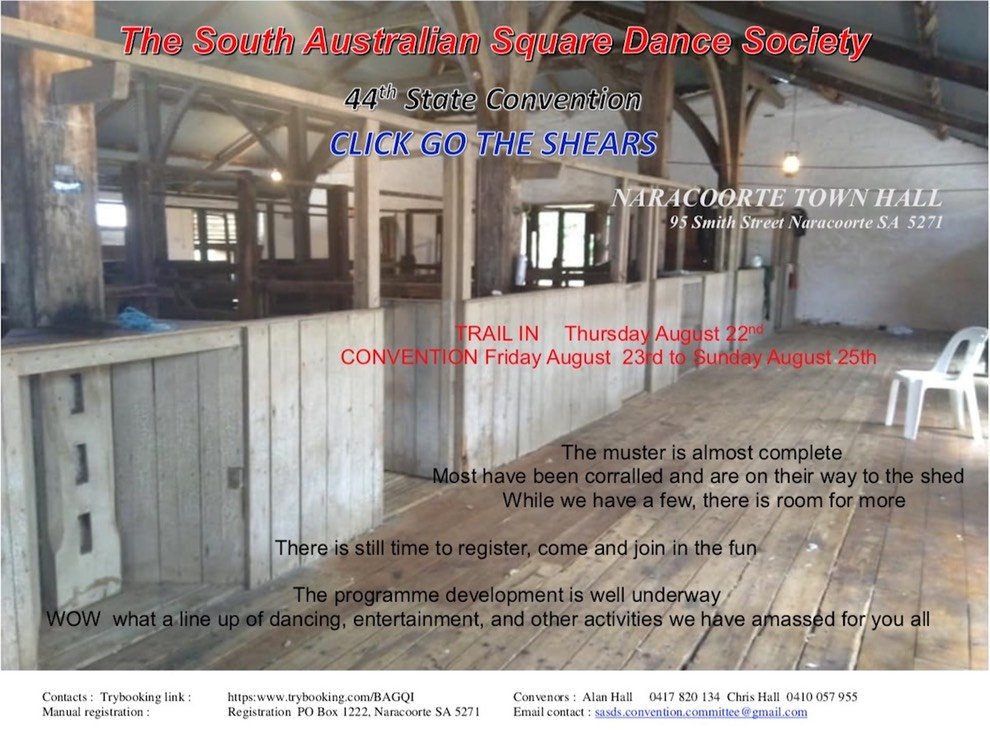 This is an exclusive opportunity to view the Minijumbuk working facilities in Naracoorte whilst you are at the SA State convention.
Numbers are extremely limited to 20 people and 2 sessions.  So 40 lucky people will be in for a treat rarely seen. 
It will be a matter of first in best dressed.   If you wish to attend you must let us know by email so that we can add you to the list.  
Time is fast approaching with less than 4 weeks to go. 
Looking forward to a terrific few days of dancing, fun and frivolity.  See you all soon. 
Christine & Alan Hall
Convenors for 2019
44th SA State Square Dance Convention